Simple plain long tee with functional zipper.Love how the shirt is pleated at the zipper to creates volumes. Simple and stylish tee, perfect pair with your lame legging!
RM35
The flower print look cartoon like, with its colorful print this dress looks fun and cheerful. I bet whoever wears it does too!
RM39
Another collection of cool print t-shirt. You can't have too much shirt right? Especially if they have interesting print like these. Only
RM15
each..cheap!!
Handmade accessories anyone? Both necklace and bracelet are specialy handmade to perfection. Aren't they lovely? Good thing about handmade stuff are that they're not mass produced and you unlikely will meet someone wear the same thing as you. So be unique and buy handmade accessories, especially if they're as pretty as this!
Necklace,
RM22.
Bracelet,
RM35
Elegant black & white tube dress with wild flower print. Love the tie back, so sexy! Don't you want to wear it for meeting that special someone? Bid starts at
RM39
Not sure what i like more, the lovely colors or the lace trimming. But i know for sure that this spag top is soooo lovely and sweet.
RM25
Another lovely piece brought by Vivace Cabin. Chiffon dress with little floral prints and inner lining. You'll look lovely with this dress.
RM40
Satin puffy skirt with electrifying color! Puffy skirt is soo in nowadays, own another one in this color won't hurt you bits.
RM49
The Shoplifters
Men's belt with robots print..cute huh? Let your boy wear this kitschy belt, sure he'll love it! Available in black too.
RM30
Threadbarn
Racerback singlet with sequined design. The colors looks like they are spray painted, very cool! A perfect top to wear during hot days!
RM39
Heaven for Angels
How about roses for your plain pantyhose? Very sexy and seductive, slip it on your lovely long legs and wear it with your favourite stilettos.
RM22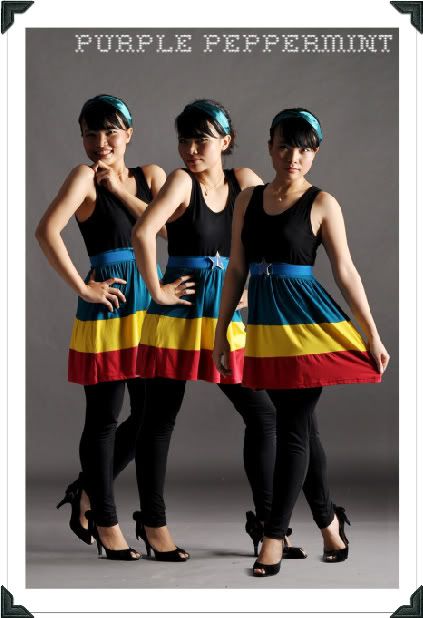 Purple Peppermint
Stop traffic with this bright color dress. Be fun and trendy, wear some smashing colors to brightens the day! Love it!
RM55
Pretty Ever After
Cute dress, sweet pink and adorable dots..the combination of all 3 elements made this dress a perfect wear! Don't you love it?
RM25
Psst..the lollipop necklace is for sale too, just
RM12
!
A Model Studio
Trenchcoat like suit with varieties of interesting design. Smart enough for officewear, belt included too!
RM46
Shop With Narnia
White Miu Miu (imitation)bag with gold metal trimming, very stylish. I love the metal bag opener, reminds me of the old fashioned coin purse. Can be used as sling bag or hand carried.
RM80



Bows Lover
Cute denim shorts with gold buttons. Must be comfortable to wear due to it's soft fabric
.RM36
Just Bag It
New bag collection from Just Bag It. Don't you love all of it? Couldn't resist patent flab bag with material oh so glossy,
RM60
each! And the sling bags, the animal print definitely an eye opener and unique, while the plaid one are simply too cute!
RM30
each
Sweet Toothsome
Don't you love the black & white color combination on this tube? I think it is very smart and cartoon like. And the breast pockets complement it. Be rugged, wear this at only
RM35
My Secret Dress Room
Elegant stripy dress that are so sexy. Can be worn as top with your favourite jean or just wear it alone as a sexy dress.
RM22
Revampz
Born to be wild tube top..very wild indeed! Rock the
dance floor
with this sexy piece! Available in Purple, Black, Teal and Grey color, for only
RM26
each.
House of Allure
Maxi with interesting
zig
zag
print. Don't you love how the
zig
zag
play tricks with your eyes? Very mesmerizing!
RM79
Plain denim dress waiting for you to
accessorize
it. Love the cutting..just add clincher and long necklace, you are ready to walk the street.
RM50