Beautiful outfit for workwear or just for social outings. Available in green and yellow but i chose to feature the yellow coz it has cute print! Note that the top and skirt are attached together, more reason to love!
RM52
Another one from ROOM 8008, how can't i not feature this cute Cat shirt? Unleashed the wild wild cat in you! Meeoowww..
RM42
BF shirts are always hot stuff, it sells by itself. No need for me to elaborate more, just click and buy already!!
RM38
Just like studs, zips are so in trend nowadays coz it adds funk to any piece. A low cut denim zipper dress is yours for
RM45
Seller named this 'Lapsap Jackjet' but i did not see any lapsap element in it *LOL* No offense babe, but if me i would name it Candy Cool Jacket cause i love the candy colors! Makes you look cool and cute at the same time. Be cool & cute for only
RM35.
Be bold and wear this fringed suede mini skirt. If you are going for rocker street style this piece is what you need. Yours for only RM50(plus postage!)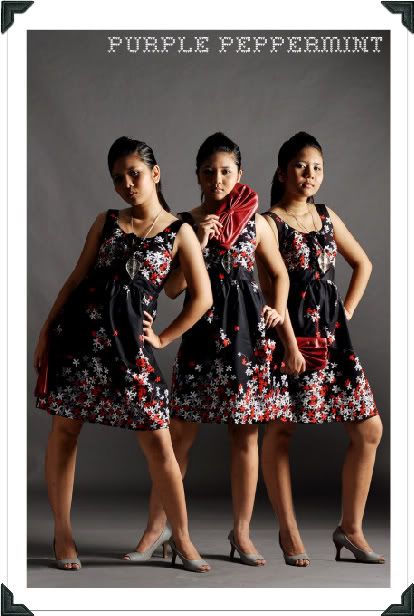 Purple Peppermint
I always love floral dress, so when i spotted this one, my heart just melt. I think the combination colors of red & white against black background make this dress even more beautiful. Go flowery today at RM60
Cute black & white top from Aussie. You can never go wrong with this color.
RM45
Color stripes and puffy skirt, a perfect combination. Sexy and fun piece..suitable for petites. RM42
Cool owl tee like none other..to match with leggings or
skinnies
is the way to go!
RM38
Beautiful chiffon ruffles top, but not just any other top..it is a
wrapover
complete with sash at the back..oh, and inner
spag
top also included. Great or what! Available in Red,Green and White for only
RM54
Chilli

Kiss
With the sunny whether like this, another halter top won't hurt..especialy with cute print like this.
RM24
The Owl Sister
Meoowww..cats and dots on a bright orange shirt. Me love it!
RM39

Little Cheri Blossom
Sexy halter neck top with a touch of rose.
RM39