Like Seriously
Striking black & white wrap dress. Such an eye catching prints. A stylish addition to any girl's wardrobe.
RM45
45°C WORKSHOP
Dual toned blouse with fun touch of polka dot prints on top shoulder. Trendy chic look for the fun and youthful you.
RM44
Paradise of Kitty
For die-hard fan of Hello Kitty or those who just love cute pink stuff. Visit Paradise of Kitty for a wholesome of Hello Kitty goodies. Irresistibly cute and truly one of a kind. Be prepared for major cuteness shock when visits them.
My Little J
Long fitted tee with snowflake prints. Sexy wide neck that can be worn off shoulder. Get into the festive mood with this yummy piece.
RM35
Shopaholics Bar
Plaid zipper dress with halter neck string. For those who are still mad for plaids, add this stunning zipper accents dress into your cool collection.
RM48
Clothes Carousel
Funky hoodie cropped jacket in nautical stripes. Casual and comfy.Sporty designs to suit your active lifestyle. Perfect wear to the gym.
RM29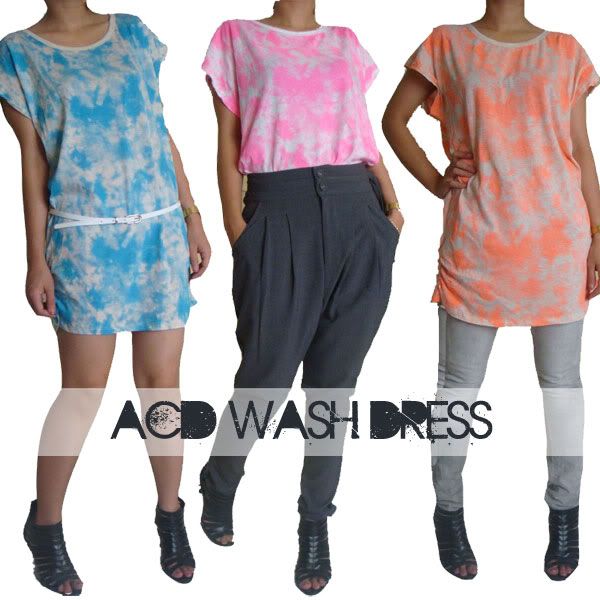 The Shoplifters
Uber-cool acid washed long tee/dress in striking neon colors. Scoop neck and capped sleeves. For those who dig acid wash, get this funky casual tee that definitely rocks your every outfit.
RM42




Green Bananas
Vibrant floral top. Cute flare cut . Love shape bustier with black lace cover top. Sublimation print trendy top.
RM40
Dress for Yesteryear
Retro vintage tunic top with pretty yellow floral prints. Mixture of green and yellow against white fabrics really makes it pop! Sleek designed and absolutely elegant piece.
RM45
Vouge In You
Imported Vivienne Westwood inspired heels. Made from sustainable rubber and features a sweet red plastic heart on the front. Comes in fun lovely colors.
RM87
ROOM 8008
Comfy rompers with slouchy collar and cut out back. Unique designs that looks flattering on you.
RM52
ROOM 8008
A head-turner piece. Bright hues of purple with frills trimming. Combining pink corsage, sash and straps. Adorably cute to wear.
RM42
A Bit Of Everywhere
White halter neck blouse with luxurious black pleats on bib. Body fitted and smocked on the back. Sexy and elegant wear.
RM45
Shopping Playground
Dotsy dots skirt in classic black and white combo. Gorgeously pleated for that puffy effects. Lace layering on top.Get this fun and flirty skirt that sure to enhance your oufits.
RM35