My

Kedai

Runcit
Vintage ear studs comes in
varieties
of shapes and designs. Fun to wear and definitely a unique piece to complement your ears and face.
RM15
each
Pumpkin
Gorgeous full laced dress. Flare sleeves and boat neck with just right pleats on the neckline. A simple romantic dress that doesn't need anymore enhancement. Lovely!
RM50
Sweetie Pie
Long fitted tee with interesting cartoon prints that will make you smile. A cheer up tee to be worn on your best mood. A perfect tee to be paired with your favourite jeans. Clockwise from left,
RM28|RM25|RM25|RM26
Alphabet Closet
Deep dye ombre tee in sweet candy colors. A basic tee with some extra personality. Check out for other pretty colors at the respective blogshop.
RM35
Miss OCD
Struts with these fierce looking heels. Featuring masculine straps and the other with geometric shape cut outs. Delicious heels that are irresistibly stunning.
RM79 | RM75
Miss OCD
Oh my..don't you love the sophistication this stunning blouse brought in? Sleek design of raunched turtle neck and long cuffed princess sleeves. The surprise is on the back part, features a huge self tie sash and well-crafted drapes. Quality satin fabric with gorgeous detailings.
RM55



Baju
Kitschy print tee to rock your world. A basic wear with eye-catching prints. Definitely a tee not to be missed.
RM25 | RM22
Circle Dots
Black colored necklace with diamond adorned pendants in assorted shapes. Interesting to look at. Definitely will spice up your outfit. Other shapes and design available as well.
RM15
each
Winkstick
Now, ain't this refreshing? Never seen toga style floral dress before. Combining
femnine
and chic trendy designs. Puffy sleeves, ruffles, waistband added by classic flower prints. Wanna look stylishly different? Have this!
RM55
Winkstick
Looks like your ordinary quilted bag but with added gold pyramid studs for edgier look. Such an
electic
embellishments
. A cool bag to own by any
fashionista
out there.
RM65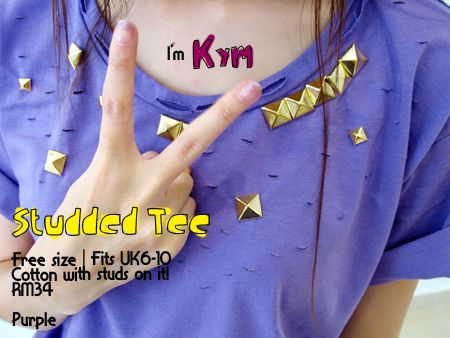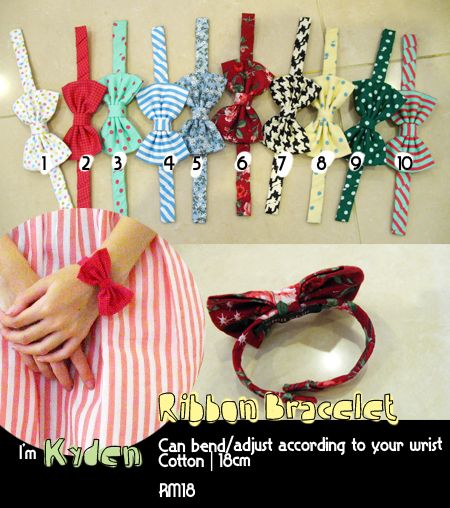 The Envelopes
OMG
..i love all their collections..don't you? Such a refreshing design and cute too. Looking at the interesting pictures give me the itch to shop from them. Studs, bows and all in
irresistibly
vibrant colors. Yummy!
Jovy's

Wardrobe
Combo of chiffon floral blouse, belt and short. All are attached into one good looking outfits. Especially for those who loath matching outfit, just slip this on and you are ready to go!
RM55
A Bit Of Everywhere
Cropped denim leggings with folded ends.

Splendid's

sublime take on a cropped 3/4 leggings that look good with any top
. RM26
Stylisters
Trendy zipper tube dress with newspaper prints. A cool take on a dress. Absolutely catchy piece.
RM40
Stylisters
Funky bag with even funky prints. Adore the colors on the art-prints, it makes the bag pop! Featuring braided straps,

raunched

top, zipper closure, 3

spacy

compartments

and additional long straps included. Awesome bag huh?
Also available in black and blue colors.
RM60
Bella Donna

Dressroom
Cuty

shorts to be worn lounging around the house. Comes in adorable prints of stars love. Fancy some cuteness?
RM15
plus postage
Rompers featuring ruffle

embellishments

. Rompers are cute and comfy, easy to wear and a great

subtitutes

for shorts. If it look as good as these, more reason to wear it.
RM58
each
Little.Black.Book
Check out the collection of stylish skirts from them. From casual to work wear, they have it all. There are more skirts in assorted colors at their

blogshops

.
RM39.90
each
Nunfish
This stunning dress features strapless top style with hidden band for support,ruched sides, throughout soft romantic floral prints and tiered ruffle on the bust.
RM50
Pochi
Ochi
Braided headbands with pretty daisies. So sweet and angelic looking. Definitely a complements to your tresses.
RM16
Lets Go Gaga
Beautiful dress with pretty eyelet trimmings on the neckline and hems. Mix of

boho

and feminine design. Love the look of this dress so much.
RM30
Modellare
Cute looking sleeveless dress with pleats trimming bib and adorable love shaped buttons. Victorian inspired design with cuteness touch. I like!
RM32
Miss Shopaholics Closet
Rainbow colored plaids on a stunning shoes with kitten heels. Button accents from the same fabrics. Put a cheer on your outfit with this vibrant heels.
RM40
Sweet Cozy
Super cute earrings featuring stars, cresents and beads. Awesome kitsch charms and just general cuteness!
RM15
A Bunch Of Wild Flowers
Another floral tube dress with tie back sash for the perfect fit. Lovely-fun flower prints. A pretty dress for the ultimate style.
RM42
Acute Shopaholic
Lovely dress. Light pink chiffon fabrics with batwing flare sleeves and pretty black embroidery on the sleeves and hems. Added by black lace trimmings on the bust.Such a breath taking dress.
RM42