New awesome collection for your ultimate style. Loving all of it, definitely suit for everyone.Go check 'em out now babe!
Plain black dress with flowery details. Not sure whether the colorful floral is printed or embroidered. But still, it's perfectly placed to make the dress even prettier.RM42
Trendy designed tube dress to fit your every style. All very chic and definitely a stylish addition to your wordrobe. RM53 | RM56 | RM52
Pretty necklaces that enhance your outfits. Round shape pendant with scale motifs pendant and and another with multiple leaves and chain. A kind of necklaces that never goes out of style. RM25 | RM18
Tank top with lace trimmings. A sexy addition to your outfit. Best worn underneath your favourite jacket. Definitely a staple piece. RM25
Sexy black skirt with gold diamond shaped stud along the waistband. Slited on the side for that sexy peek. RM35
Bunny Noo
Spaghetti strap rompers with gold button accents. Love shaped bust line and loose short pants. Look comfy enough to wear on our ever hot days. Stylish and comfy in one outfit,awesome!
RM50
Fashionholicgal
Sleeveless blouse with frills trimming collar and front sash to be tied as a cute bow. I love the look of this blouse with its dramatic bow, very korean drama inspired,if you ask me.
RM45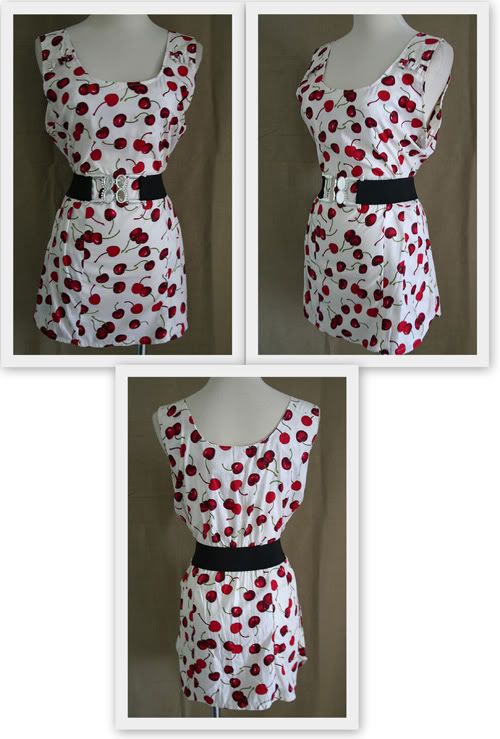 A Fitting Room Boutique
Get cherry crazed with these yummy cherry print dress. Sleeveless, square neck,2 side pockets and has an elastic waistband complete with front buckles. Definitely a lift-me-up dress, to be worn on your most cheerful day. Other colors available as well, go check 'em out.
RM35
Labelleaf
The ever still hot plaid BF shirt in assorted colors. Double breast pockets and rolled up sleeves with button closure band. A staple shirt in every girls wardrobe nowadays, have you own one yet?
RM39
CHANCE
Updated with uber cool pieces dedicated for weekend wear. All very pretty and tempting.
Creampuff Wardrobe
Sweet floral demure to charm you. Sheer chiffon with pastel colored floral print, long sleeves with cuffs and front button closure. Very sweet looking and definitely look lovely on you.
RM35



Vintage Biri-Biri
Wow, ain't this bag gorgeously eye-catching? Tooled sling bag with chain strap comes in striking red to swoon you. Well crafted and definitely must haves.
RM25
Fringe
Peep toe heels with dynamic design and edgy studs embellishment. Get the electic vibe from this rocking heels.
RM64
Vain Pot
Get star studded with this pretty blouse. Loose cut with cuffed collar and elastic hems. A blouse for an easy-breezy style that exudes simple elegance.
RM35
Your Shopping Affair
Pretty blouse, boho style.With those beautifully embroidered flower, how much feminine can you get? The green piping is a perfect addition to this feminine boho top.
RM25
Elsie Collection
Classic black and white chiffon floral dress with such feminine design. Floral dress never fails to enhance your feminine beauty and will always brings out the best in you.
RM49