Just look at all those cool zipper skirt. Creatively designed using zippers from bow, layered to pockets. Get that electic style with this trendy skirt that suits any top, anywhere. RM49
Goodielicious
Adorable Hello Kitty laptop bag with hello kitty motif embroidered all over it. Fully padded interior for protections and has 2 compartments and pockets. Extra long strap is included. Dedicated to Hello Kitty fans out there, get this stylish and cute bag for your laptop! Truly imported,hence the price tag.
RM249
plus postage
Gossips
I love tees! Especially if it comes in loose slouchy cut like these. These 2 different designed sleeveless tee really caught my eyes with it's kitschy glasses print and fringe trimmings on the neckline. Very simple design and yet very interesting. Love it!
RM69
each
Femme by JE
Simple long tee with just enough design for the ultimate style. Black piping on sleeves and neckline, string sash for extra grip and splattered black paint print against white are simply brilliant.
RM48
My Vintage Garden
Dual toned dress with denim corset-like top and floral chiffon skirt. Denim and chiffon look so good together. Also love the double frill details up to the shoulder straps.Nice!
RM49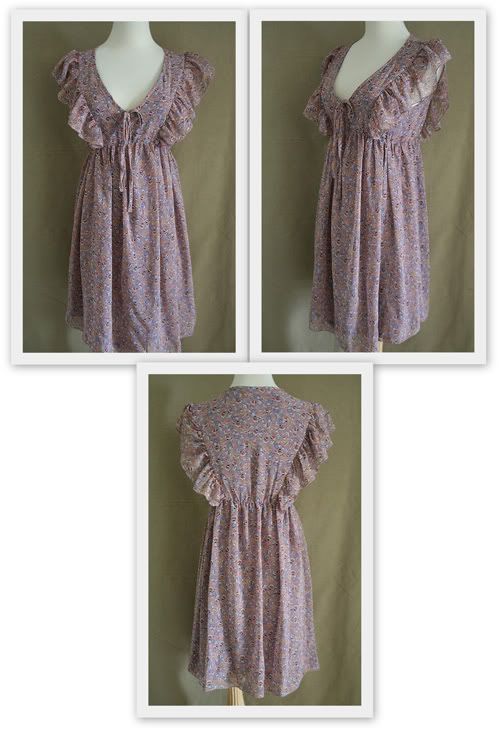 A Fitting Room Boutique
Feminine chiffon dress with flutter sleeves and low neckline with tie string. Seller stated the fabric is printed with kitschy clown. Add a dash of fun and girly style with this demure looking dress.
RM55
La'Belle Closet
Corset bustier with black floral lace trimmings.Also with front zipper closure. Such a sexy addition to your look.
RM55
Beautiful Disaster
Handmade feathered brooch with diamante and gold chain. Gives your outfit an edgy boost with this unique brooch. Get creative and pin it anywhere that flatters.
RM18
each
Apple Cabin
Lovely looking blouse with lacy cover-up on the shoulder to the back. Love motif lace that adds sweetness with sheer sleeves. Round neck and nicely pleated to add volumes. Your casual wear just becomes sweeter with this lovely blouse.
RM27
Jujuwiwitata's
Hot looking tees to cater your rock chic sense of style. Round neck, slouchy and long enough to cover your bottom. Transcends the trends and show off your unique personality with this printed tee.
RM35
each
SummerCool Fashion
Loving the eyelet tiered ruffle on the bust. Closely layered to add dramatic volume to the tube top. Totally smocked on the waist and elastic on the top part. Super trendy top for the super stylish you!
RM29
Like Seriously
Flamboyant designed pinstripe vest that's truly unique. Collar that looks like flower petals, assorted buttons and tuxedo tails. Very whimsical don't you think? I love it!!
RM53


47 YKJ
Simple LBD with an edgy touch. Empire waist and deep V neck with triangle studs accent. Such a stunning dress to dazzle your friend with.
RM38
Kenjo
Get feminine chic style with this fun polka dots tube dress. Nicely constructed with single pleat on the waist, inner lining and smocked back. This gorgeous dress has that playful and youthful touch that's perfect for girlish girl in you.
RM67