Clothes Carousel
Plain long shirt with cute lil' pink buttons. Round neck, side pockets and long past your bottoms. Look like a very comfy shirt to wear in a long run. Who says you can't be comfy and stylish at the same time?
RM30
Sgt Baik
Cute shorts with love shape pockets on both front and back. Low wasited and super short. Just like those lil' girl short you once wore. Available in M ans L size.
RM20
Girl About Town
Spotted your favourite vest among all these trendy vests yet? From studs, lace, zipper, denim and khakis, you really spoilt for choice.
RM38
each
I Love Snackfood
70's hippies style round glasses. These groovy glasses comes in different frame designs. Round glasses making a comeback this 2009, thanks to the Olsen. Feelin' groovy,baby!
RM35
each
I Love Snackfood
Funky designed flat with an eye-catching colors. Such a futuristic design and irresistibly adorable. Very eccentric indeed!
RM58
Oh My Clothes
First they have cage heels now comes cage dress to add to your style list. Love how the bold black line accentuates the dress. An ultimate statement dress.
RM44
My Favouritees
Rockin' hot printed long tee that are so versatile and comfy to wear with almost anything. This kind of photo-print are timeless and cool no matter what look you are going for.
RM39.90
each.
Simpli-cious
This kind of sandals are popping everywhere now. Ankle wrapped sandals, now with added studs for that extra bling. Black or white? Your choice!
RM55
Oh Popsicles!
Adore the pretty pleats on this blouse. Round neck with pleats on the sleeves and hems complete with self tie sash on the side. I love pleats, they add that special oommph to your outfit.RM45
Oozora Tang
Check out all these elegant bag that just brought in by Oozora. Spot your favourite yet? All are very pretty and definitely spacious and conveniently stylish.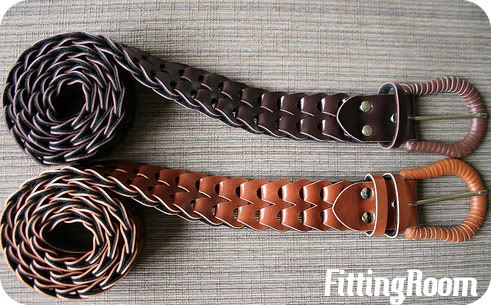 A Fitting Room Boutique
Uniquely braided belt is what you need to add style to your outfits. The braided belt will accentuates your outfits as well as contour your silhouettes.Perfect! RM25
The Owl Sisters
One of a kind bare back denim pinafore.Halter neck straps with button and half button closure front. Great addition for the preppy and playful look.
RM35
Layla The Walk-In Closet
Love the lavender dress with oh-so-sexy plunging neckline, empire waist and flowy skirt. Such a feminine and girly dress added by beautiful prints and sweet color.
RM69.90
Motte Closet
Combining wide stripe and bright color combo into one sweet looking tube dress. Absolutely dazzling dress that carries a youthful fun flair spirit.
RM49
House of Allure
Elegant satin dress with exposed gold zipper trimmings on the bust. Totally smocked at the back plus sheer sleeveless top for that extra coverage. To be worn as a mini dress or slip on your black tights, you decide.
RM42