Lovely lacey top that's perfect for layering. Sheer and flower designed lace. Wide neckline with double tiered ruffles.RM35
This is actually an oversized blouse that can be converted to a dress if you are petite enough. Love the red flower prints on the soft chiffon. The wispy chiffon flows gracefully and flatters your frame. RM45
Trendy strappy wedges with shoe string. Get this chic looking wedges that will rock your feet whenever you walk the street. RM57
Such a fun looking dress with its flowery prints and combination of pastel colors. Sleeveless dress with frills strap and button details on the bust. Lovely! RM30
Get mesmerized by this vibrant dress with such beautiful batik print. This pretty dress will definitely dazzle your friends! RM79.90
Gold studded flats from Topshop. Get this super comfy flats with just enough studs to bling you whole look. RM70
Cat In The Bowl
Splashed watercolor print romper with drawstring on the waist. Such a funky looking piece for that casual outings with your girl friends!
RM50
Smashing Pit Stop
This suede pumps just look luxurious and sophisticated. As classic as the style is, it doesn't skimp on sex appeal. This pump is available in fabulous shades of black, grey and purple.
RM55
Motte
Cute dual toned dress in denim. Complete with same design belt and has a side pockets. Dress that gushes fun and feminine side of you.
RM52
Simpli-cious
Tutu skirt anyone? Get fun and flirty with this thai silk skirt covered by black netting. So girly and yet sexy tutu skirt that take us back to ballerina style.
RM40
The It Girls
A stunning top with side frills and fun dot prints. A top so sweet and sophisticated..dedicated for those who need an extra dash of sugar to add to their wardrobe.
RM54
A Model Studio
Super stylish button through batwing top. Get comfy with this trendy top that's versatile enough to wear with anything for anywhere, anytime. Plain on front and surprise floral print on the back. Cooll eh?
RM39
The Owl Sisters
Wide and narrow stripe prints to dazzle you with. Long sleeve top that carries a youthful fun flair.
RM39
Cherry Buttons
Colorful tie-dye tank top to rock your hot sunny day! Pair this tank with a neutral toned cardi and shorts for a casual daytime take.
RM19
Oozora Tang
Stretchable cotton romper with drawstring halter neck. Feature gathered elastic banding at waist. Get the free and easy look with this fabulous romper.
RM43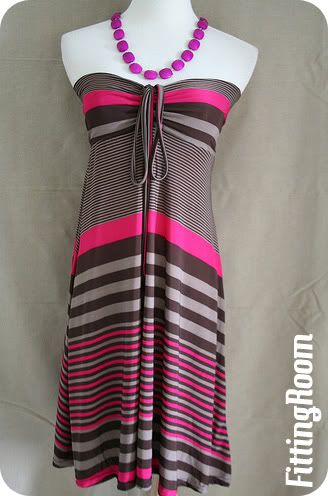 A Fitting Room Boutique
Colorful stripe halter tube dress that look fabulous on your body due to its loose fitting cut. Eye catching stripe that never fail to impress. May it be a walk on the beach or just lounging on your favourite place, this dress still look lovely on you.
RM45